How to commute to Himeji Castle | DIY Overnight, Day Tour Budget Itinerary and Travel Guide | 2023
Himeji Castle
Himeji castle, 姫路城, Himeji-jō, or the "white egret castle" is a 17th century castle (or sometimes 12th) with a height of 46.4 meters located in Hyogo prefecture. It is famous for its white color like an egret taking flight standing atop a hill and visible from a distance.
NOTICE: The fares and schedules listed here may subject to change without prior notice. Pls check with the companies for the updated details.
CommuteTour is in no way affiliated with any of the buses / trains / tourist spots listed on any of its pages.
History of Himeji Castle
In 1333 Akamatsu Norimura started to build Himeji castle as a fort following the order of the Imperial Prince Morinaga to subdue the Hojo Family. Construction was continued by his son Sadanori where the first mansion was built on Mt Himeyama.
200 years later in 1577, Toyotomi Hideyoshi received the control from Oda Nobunaga where he further developed the fortification. Finally, in 1601, the castle to which we see it now was built by Ikeda Terumasa as a gift for his support of Ieyasu Tokogawa following the battle of Sekigahara (Columbia).
UNESCO World Heritage Site
Himeji Castle was declared as UNESCO World Heritage Site in 1993 describing it as:
Himeji-jo is the finest surviving example of early 17th-century Japanese castle architecture, comprising 83 buildings with highly developed systems of defence and ingenious protection devices dating from the beginning of the Shogun period. It is a masterpiece of construction in wood, combining function with aesthetic appeal, both in its elegant appearance unified by the white plastered earthen walls and in the subtlety of the relationships between the building masses and the multiple roof layers.

unesco
How big is Himeji Castle?
From east to west, Himeji castle spans a length of 950-1,600 meters. From north to south a length of 900 to 1700 meters. The circumference is 4,200 meters(2.53 miles) and an area of 230 hectares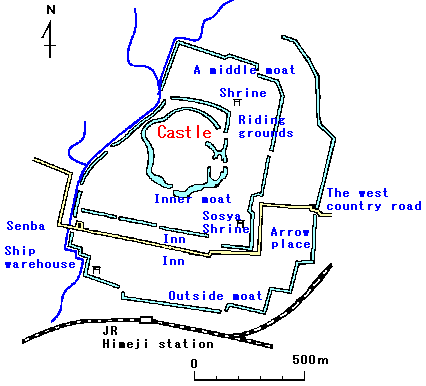 Sources:
columbia.edu
unesco
memenet.or.jp
Where is Himeji Castle?
Himeji Castle is located in Hyogo Prefecture, 75 km west of Osaka or 48 km from Kobe and can be a stop over if you are going to Hiroshima. It can be accessed via the Tokaido-Sanyo Shinkansen line.
How to go to Himeji from Osaka?
Using the Japan Rail Pass, you can take the Sakura, Hikari and Kodama trains except Nozomi on the Tokaido – Sanyo Shinkansen line to go to Himeji from Osaka. For regular fare, the Jr Kansai pass and other JR operated regional passes, the Nozomi is included on the trains to use going to Himeji.
You can also take JRrapid trains (shin-kaisoku) to go to Himeji. The trip takes one hour and cost ¥1520 for the one way trip. If you are using Kansai thru Pass you can take the limited express trains from Hanshin Umeda Station to Himeji Station
Upon arrival on the station, you can walk for 20 mins to the castle or ride the local bus. If you are going to walk, you will see murals near the castle where you can see the different views of the castle.
Preparing for your Trip?
Find the best and cheapest hotel in Himeji from Booking.com or Agoda
Quick Links
Airports

Kobe Airport
Nagoya Chubu Centrair International Airport (NGO)
Sapporo New Chitose International Airport (CTS)
Tokyo Haneda International Airport (HND)
Tokyo Narita International Airport (NRT)

Bus Routes
Shopping
Trains

Shinkansen (Bullet Trains)

Travel Essentials
Regions
Chubu

Aichi

Nagoya
Chubu Centrair International Airport (NGO)

Fukui
Gifu
Ishikawa
Nagano
Niigata
Shizuoka
Toyama
Yamanashi

Chugoku

Hiroshima
Okayama
Shimane
Tottori
Yamaguchi

Hokkaido
Kansai

Hyogo
Kyoto
Mie
Nara
Osaka
Shiga
Wakayama

Kanto

Chiba

Narita Interational Airport

Gunma
Ibaraki
Kanagawa
Saitama
Tochigi
Tokyo

Kyushu

Fukuoka
Kagoshima
Kumamoto
Miyazaki
Nagasaki
Oita
Saga

Okinawa
Shikoku

Ehime
Kagawa
Kochi
Tokushima

Tohoku

Akita
Aomori
Fukushima
Iwate
Miyagi
Yamagata
Travel Blogs
Tokyo Itinerary
Tokyo Japan Itinerary

2 days with Tokyo Disneyland
2 days using JR Pass
3 days using Tokyo Subway Ticket
3 days with Tokyo Disneyland and Mitsui Outlet Park
3 days Anime Lovers Itinerary
Tokyo Imperial Castle and Museum Hopping
5 days Itinerary with Mt Fuji

Walking Tour

Shibuya to Tokyo Station
Shibuya to Ikebukuro
Ginza to Tokyo Tower

Train Passes
Cash and Currency Exchange
Transportation
Checklist

Language Essentials
Local Sim Card or Pocket Wi-Fi

Passport and Visa
Travel Insurance

Local Customs and Culture
Osaka Itinerary
Osaka Japan Itinerary

1 day Osaka Itinerary
2 days with Universal Studios Japan
2 days using Osaka Amazing Pass
3 days using Kansai Thru Pass
3 days Osaka + Kyoto
3 days Anime Lovers Itinerary
5 days Itinerary Osaka, Kyoto, Nara

Walking Tour
Rail Pass

Kintetsu Rail and Bus Pass

Transportation
Terminals
Checklist

Language Essentials
Local Customs and Culture
Kyoto Itinerary
Kyoto Japan Itinerary

1 day Kyoto Itinerary
Overnight Kyoto Itinerary from Tokyo
3 days Osaka + Kyoto
3 days Kyoto with Universal Studios Japan
3 days Anime Lovers Itinerary
5 days Itinerary Osaka, Kyoto, Nara

Walking Tour

Temple Hopping in Kyoto
Arashiyama

Train Passes
Transportation
Tourist Spots
Cash and Currency Exchange
Checklist

Passport and Visa
Travel Insurance

Local Customs and Culture
Terminal
Fukuoka

Fukuoka Airport Bus Terminal

Kobe

Kobe Airport Bus Terminal

Nagoya
Osaka

Osaka Kansai International Airport Bus Terminal

Sapporo

Shin Chitose Airport Bus Terminal

Tokyo

Haneda Airport Bus Terminal
Narita Airport Bus Terminal
Transport